Strike Averted
: CUPE library workers reach a tentative agreement with the Toronto Public Library Board ~~ (November 4, 2009)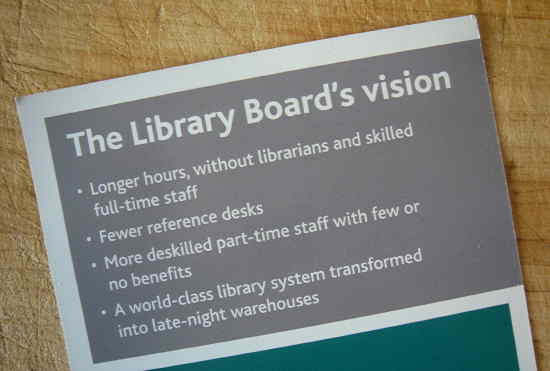 Extract. Info courtesy:
Connie Crosby
20 October 2009 — Joe Clark

Quote: "I walked out of Danse Danse Évolution and saw a couple of guys handing out flyers. Efficient library outreach! I thought. Nope. UNION!


I must say, the library union isn't doing a very good job of scare mongering.

Unions are great sometimes and lousy other times, and neither of those things some other times. That's my opinion. It's probably your opinion. Only right-wing assholes think unions are never a good idea, and not even union stalwarts think they always are. (Be honest.)

I talked to the guy who handed me this leaflet. When I told him I write this blog, he took a quarter-step back and started treating me like I was radioactive. "Yes," he said warily. "I have heard about it." Well, good – you shoulda.

The leaflet makes the claim that the TPL Board "wants to… stay open to midnight with no professional librarians and many more part-time staff get rid of reference desks." I have asked around and concluded this is wilful exaggeration, reiterated in a union blog post." Unquote.
TPL Union news update
: